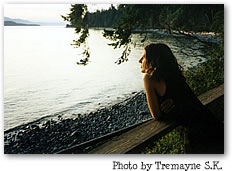 "This is the original home page of the KendraArt website. It was designed in 2003 by my friend, Fernie artist and graphic designer, Keya White. Her website can be found at photoscapes.ca.

After completing a two year course in graphic and digital media design, I was looking forward to applying what I learned.
I redesigned my KendraArt website to give it a fresh and updated look. It is exciting to have the ability to apply my creativity in this aspect too. I want to say a big thank you to Keya for all the help and support she gave me to get my website underway. I loved the website she designed for me, and especially after studying and now teaching interface design, I think that Keya's websites are top-notch. Thank you Keya!"